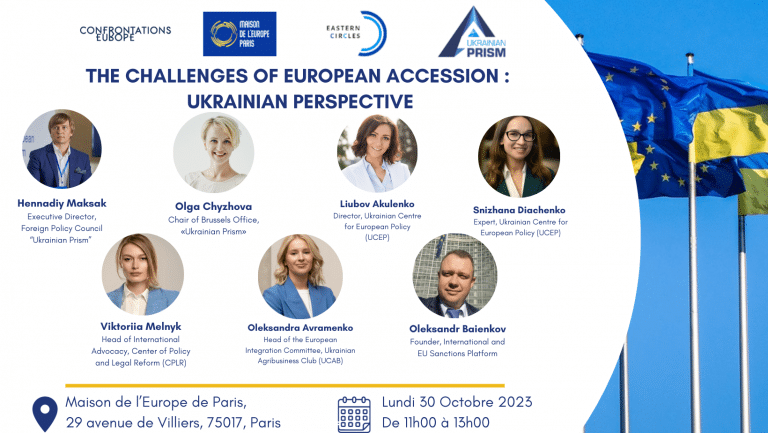 Date / Heure
30/10/2023
11 h 00 min - 13 h 00 min
Monday 30 October, from 11:00 to 13:00, Maison de l'Europe de Paris.
For Ukraine, the EU accession has been an existential issue since 2013 Revolution of Dignity at EuroMaidan. It has gained a new dimension in Ukrainian identity and self-determination since the full-scale invasion by Russia in February 2022. For the EU, the accession of Ukraine is becoming tied to the vision of Europe's own future, as it raises the question about the accession of other candidate countries. The accession is also increasingly tied to the EU member states' transforming foreign policy priorities, as the EU has become number one provider of financial aid to Ukraine in Kyiv's battle against Russia. Today, the accession hinges on the political will of European decision-makers on the one hand, and on the progress Ukraine makes in the realm of political reforms. What are the key reforms for the EU accession, and what has been Ukraine's progress in implementing them? What are the main challenges and obstacles, and what do the government and the civil society of Ukraine do to overcome them?
Around :
Hennadiy Maksak, Director of Foreign Policy Council « Ukrainian Prism »
Olga Chyzhova, Chair of the Brussels Office of « Ukrainian Prism »
Liubov Akulenko, Director of the Ukrainian Centre for European Policy (UCEP)
Snizhana Diachenko, UCEP expert on EU-Ukraine relations in the field of EU foreign and security policy
Viktoriia Melnyk, Director of International Advocacy at the Center of Policy and Legal Reform (CPLR)
Oleksandra Avramenko, Director of the European Integration Committee of the Ukrainian Agribusiness Club (UCAB)
Oleksandr Baienkov, Founder of the International and EU Sanctions Platform