Anne Macey, Chief Executive
Anne Macey has been Chief Executive of Confrontations Europe since June 2014. She also contributes to analyses, focusing in particular on macroeconomic policies, finance, social and competitiveness issues.
Before joining Confrontations Europe in 2011 as senior economist, Anne accumulated more than ten years' experience in finance and European and international public policies to facilitate access to finance to traditionally excluded populations (micro and SMEs, housing finance, private sector development, regulatory and prudential framework) in several African, Asian, and Latin American countries for ShoreBank International/Enclude and for the World Bank in Washington DC. She was also in charge of European Institutional Relations at Crédit Mutuel Group and was adviser for a deputy mayor of Paris.
A former student at HEC School of Management, Sciences Po (Institute of Political Science) Paris and the School of Advanced International Studies at John Hopkins University, she speaks English and Spanish fluently and studied German for twelve years and Arabic for four years.
Edouard SIMON, Head of Brussels Office
Edouard SIMON has been the Head of Confrontations Europe Brussels office since October 2017. He holds a PhD in EU Law from University Paris I Panthéon-Sorbonne and a MBA from ESSEC business School. Before joining Confrontations Europe, Edouard spent 4 years in the aircraft industry working on EU legal and regulatory issues (competition, research, industrial policy, etc.). He developed an expertise on industrial policy-related issues, especially in the field of armament as his PhD thesis (to be published) dealt with the roles and functions of EU law in the integration of armament procurement policies. From 2014 to June 2017, Edouard was member of the Board of Confrontations Europe.
Clotilde Warin, Editor-in-Chief of La Revue & in charge of the migration issue

Clotilde Warin runs Confrontations Europe, La Revue, a quarterly publication which reports on current events in Europe and analyses important issues linked to the EU agenda, while reiterating the think tank's recommendations. Clotilde is also in charge of the migration issue and communicates with the media on behalf of Confrontations Europe, through various op-eds. For example, Confrontations Europe is one of the think tanks registered with the Cercle des Echos, the online op-eds of the business daily Les Echos.
A journalist, Clotilde began her career at the business magazine L'Expansion, where she covered agriculture, consumption and retail. Subsequently, she reported on social and environmental issues in France and abroad, in both the written press and on television. For five years, she also wrote articles for the online magazine hosted by the European Commission's Directorate-General for Maritime Affairs and Fisheries and, in 2015, she was appointed Editorial Project Manager at the Ministry of Ecology, Energy and Sustainable Development. Previously, Clotilde spent four years in East Africa – mainly Ethiopia – where she presented a daily radio programme for the privately-owned, English- and French-speaking radio Afro FM.
She is a graduate of Sciences Po (Institute of Political Science) Paris and the CFJ School of Journalism, and has a Master 2 degree in French literature from the University of Paris-Sorbonne. She speaks fluent English and Spanish, and studied Russian for ten years and Italian for six.
Gabrielle HEYVAERT, Policy officer, Energy and Digital, Brussels' office
Lorène WEBER, Policy officer, Finance and Youth, Brussels' office
Alexis Couette, Communications Officer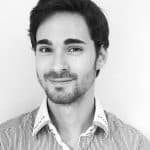 Alexis Couette works on enhancing the work of Confrontations Europe, using digital tools and digital communication. He is the webmaster and joined the team in September 2016.
Having graduated with a bachelor's degree in "Digital project manager," he is preparing for a Master's in "Head of digital strategy and project management."
Nicole Alix, Social economy manager

Nicole Alix is in charge of the working group on the social economy, for which she acted as treasurer until end-2013. In April 2011, the Crédit Coopératif, where she was Development Director, assigned her to work with Confrontations Europe.
Nicole has been involved in the social economy for over 35 years, more particularly in cooperative banking and in community services and policies for social NGOs. From 1980 to 2000, she was Deputy Director General of UNIOPSS (an umbrella organisation for social welfare NGOs). For 20 years, she worked with François Bloch-Lainé on the specific characteristics of NGOs and, in 1989, established the French Code of Conduct Committee for NGO Fund Raising. She has been involved in the establishment and running of several social economy networks in Europe. From 2000 to 2003, she was Director General of Maisons d'Isatis and managed fifteen or so retirement homes for dependent elderly people.
She is a former student of HEC-JF business school and speaks fluent English.
Michel Cruciani, Senior adviser on climate and energy issues

Michel Cruciani advises Confrontations Europe on climate and energy issues.
Since February 2007, Michel has been a project manager at the Centre of Geopolitics of Energy and Raw Materials at Paris Dauphine University. His main role is to develop relationships with prominent figures and institutions outside the Centre. He also helps to organise conferences and is involved in the introduction of a new Master's degree in energy, finance and carbon.
From 2000 to 2007, he worked in EDF's European Affairs Division where he was responsible for monitoring Community initiatives impacting the energy industry. One of the key projects during this period was the implementation of the Kyoto Protocol. Prior to 2000 he was Deputy General Secretary of the CFDT's gas and electricity federation and, as such, was responsible for European and environmental matters. After a three-year assignment in Indonesia, he was elected as a worker member of the board at Gaz de France, from a list of CFDT-sponsored candidates. He was subsequently assigned to the company's economic research department.
Michel Cruciani began his career in the joint engineering department of Electricité de France and Gaz de France.
He has written a number of articles on energy and climate change; he also designed the board game Kyogami, the rules of which are based on the flexibility mechanisms defined in the Kyoto Protocol.
Michel Cruciani graduated as an engineer from the Ecole Nationale Supérieure d'Arts et Métiers (Aix-en-Provence) and speaks fluent English.
Bernard Housset, Senior adviser on labour market issues

Bernard Housset advises Confrontations Europe and Eurofound on employment, training and labour market issues. He has a special interest in macroeconomic and social policy, international relations, geopolitics and organisation/human resources development.
Bernard has spent most of his career at the Danone Group. For almost 30 years, he was Human Resources Director in several of the Group's companies in France and Italy (Milan). He was also Corporate Social Projects Director at the Group's head office in Paris (as such he was involved in negotiating agreements on working time and flexibility, and represented the interests of the Danone Group and the agri-food industry with social affairs ministries).
In 1982, he was assigned to the Prime Minister's Office to work on employment-related issues. Subsequently, he was seconded as Research Manager to Eurofund, the Dublin-based European Foundation for the Improvement of Living and Working Conditions (2003 to 2006, and occasionally thereafter).
He has also produced articles and research papers and organised European seminars on ageing, employability, social change, participative management, profit sharing and job quality.
He has a Master's degree in macroeconomics (1969), two degrees from the CNAM (15 credit units including psycho-sociology, ergonomics, organisation and HR management [1973-1978]) and a certificate of specialisation in international relations (equivalent of a Master 1 degree, CNAM Paris, 2013). In 1992-1993, he completed a strategic management course at CEDEP-INSEAD. He speaks fluent English and Italian.
Jean-Robert Leonhard, Senior adviser on financial issues

Jean-Robert Leonhard advises Confrontations Europe on financial issues. He takes part in numerous activities, such as the working groups on financing the economy and long-term investment.
Jean-Robert was HR Director at CNP Assurances from 1992 until he retired in 2002. Prior to that he was HR Director at Scetaroute (a company specialising in motorway engineering), Secretary General of G-C.A.M (the IT branch of the CDC), and project manager at C3D (a holding corporation for CDC subsidiaries). He began at the CDC (deposit and consignment office) as a government administration officer and subsequently pursued his career in several of the group's companies, mainly in human resources management (he was HR Director at the C.A.M).
He is a graduate of Sciences Po (Institute of Political Science) Grenoble and has a degree in public law.
François Michaux, Senior adviser on internal market and labour market issues

Since 2008, François Michaux has been advising Confrontations Europe on matters relating to industrial, employment and training policy. Among other things, he produced the 39th edition of L'Option for Confrontations Europe: the demographic shock in Europe 2015-2050.
In 2008, François was working for the Renault Group, where he was in charge of long-term human resources planning (worldwide). He joined Renault in 1990 as Head of the Recruitment Department and was then appointed Executive Secretary to the Group's General Secretary. In 1981, he was working as Human Resources Adviser to the Director General of L'Assistance Publique, Hôpitaux de Paris, before being appointed Director of Economic Affairs. He began his career in 1975 as a sub-prefect at the Ministry of the Interior.
He is a former student at ENA (French National School of Administration).
Armand Rauch, Senior adviser on social economy issues

Since he left the European Commission in 2012, Armand Rauch has been advising Confrontations Europe on social economy matters, on a voluntary basis.
During his time at the European Commission, Armand assumed operational responsibilities relating to internal control, external auditing and relations with other European institutions such as the Court of Auditors, the European Ombudsman and the European Data Protection Supervisor. Prior to that, he was the right-hand man of the Director General in two successive DGs, the DG Enterprise and Industry and the DG Communications Networks, Content and Technology (formerly INFSO). Armand joined the European Commission in Brussels in the early 90s. He helped to set up a new unit focusing on the social economy and was involved in early research into specific statutes for social economy organisations in Europe. He began his career at Mutualité française, where he was in charge of European issues and relations with mutual organisations outside of France; he focused on developing economic research into supplementary sickness and health insurance, and was involved in strategy development.
He has a Master's degree in mathematical statistics and a Master's degree in business economics and management.
Alain Turc, Senior adviser for budget issues

Alain Turc retired in 2008 and now advises Confrontations Europe on European budget matters.
He spent his career at the French Ministry of Economy and Finance (statistics office [INSEE], forecasting department, public accounting department, general economic and financial inspectorate), where he gained broad experience in public finance (macroeconomic impact analysis, revenue and expenditure management, infrastructure, audits and internal control, modernisation of public management). In his various roles, he took an interest in the comparative analysis of public management and public enterprises during cooperation and teaching activities (he was Director of Seminars at the French National School of Administration, ENA, from 2004 to 2006).
Alain Turc has a degree in economics and is a former student at ENA.
Christine Gauffreteau, Executive assistant

Christine Gauffreteau is an executive assistant at Confrontations Europe, where she is in charge of member and partner relations.
Christine joined Confrontations Europe in 2009. She has over 15 years' experience in corporate finance departments, where she carried out administrative tasks and other duties relating to cash management and credit management. In 2005, she joined the International Catholic Child Bureau, an NGO which defends children's rights. She spent four very rewarding years there as assistant to the finance director.
In addition to a Master's degree in English from the University of Paris-Sorbonne, she has a diploma in international trade from the Paris Chamber of Commerce.